So this week has been better. I am nowhere near as tired, and my legs are getting in the swing of regular riding. I am waking before my alarm. I have had some great rides, including a visit to the goat track and mount glorious with Pete and Nick. Nick had just returned from an alpine camp around falls creek and showed us exactly how strong he was whenever the road turned upwards. The only time I saw the guys was descending.... it would seem my skills are improving there. To test myself I attacked one particular part on the way back from glorious that has tighter turns, continuing with a push up the next hill and was surprised how much I put into the boys. Okay, so 198 bpm is not exactly an E2 ride, but I got to learn how to attack.
I've been catching up on mechanical stuff this week too. Swapping saddles, cleaning brakes, and learning how to set up stans tubeless for myself (thanks to pete's home visit lessons....
www.mtbprecision.com.au
). I have already learned the basics of chains and dodgey 'get me home' field repairs which came in very handy for our team during XPD.
Team mate Andrew, one of the RAAF's finest really enjoyed having a girl fix his bike. And then remind him about it for the next 400km.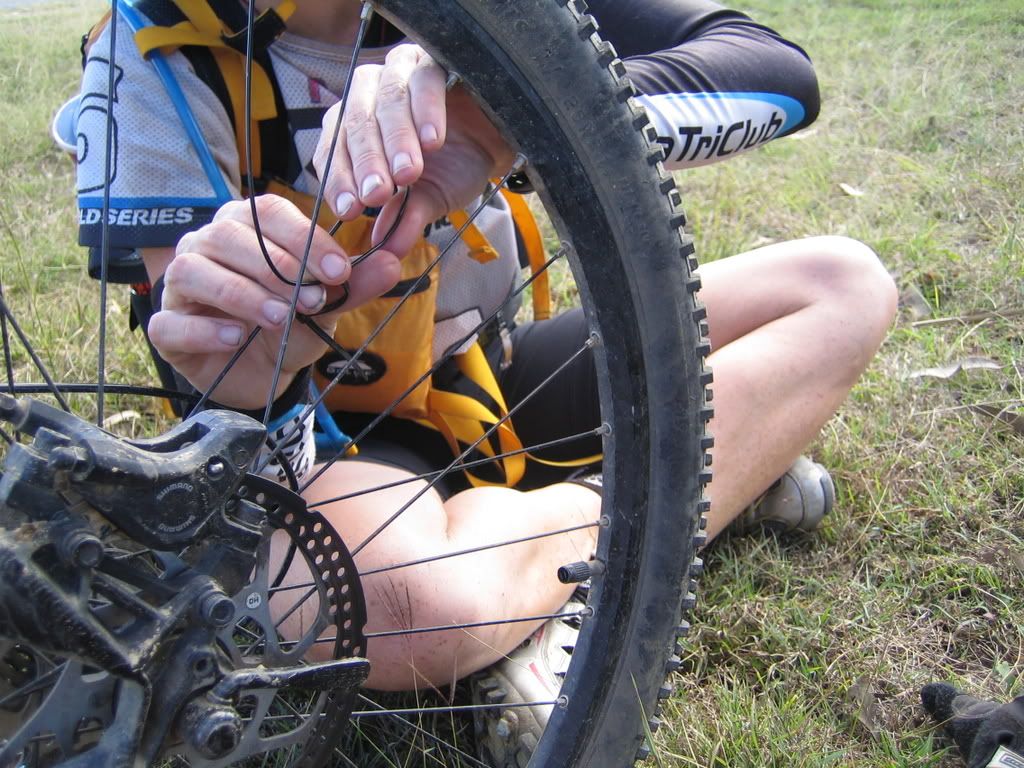 Spokes hanging off everywhere, in the middle of nowhere - only one way out!
I need to make a call about riding the dusk 2 dawn shortly as entries will close in a day or two. I am not too keen to hammer out too many long solo efforts prior to July. Haven't ridden the new track at Canungra yet so maybe I should. Off to India the following weekend for work though - so maybe I should be around home.... maybe a pair entry??