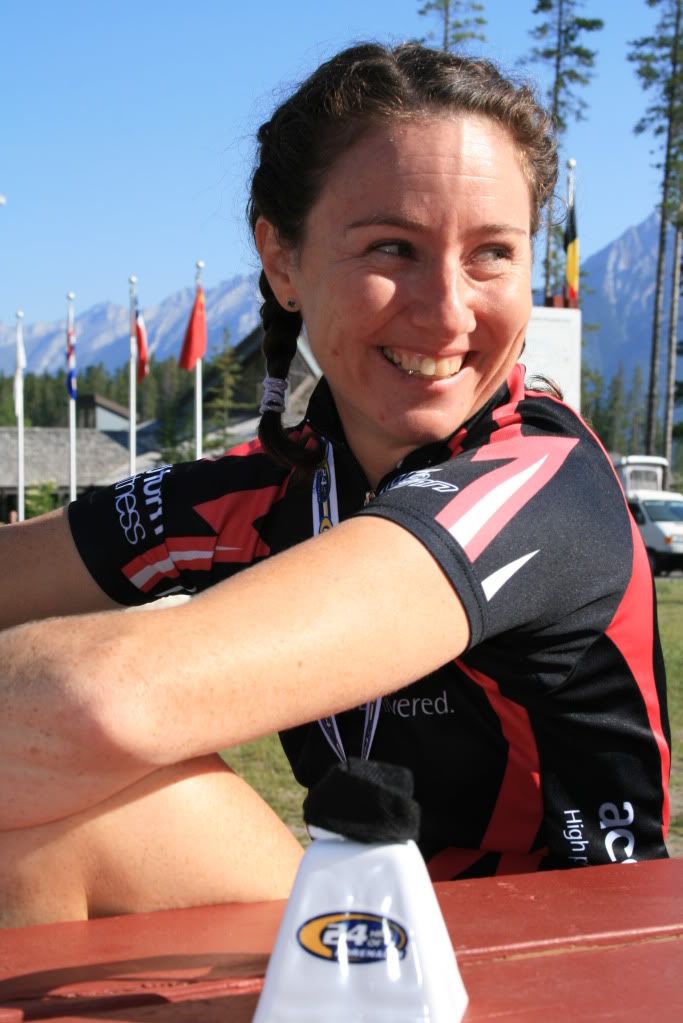 Where to start?
Congrats to all the Australians, in particular Andy Fellows (3rd elite), Sean Bekkers (1st age group) and Karen Foat (7th Elite) who had time to chat and share their experiences with me.
Arrived in Canmore on Thursday and settled into our apartment. Accomodation was nice and the view out the window gave a hint of the hurt to come. Mountains, mountains and more mountains. Greg, a great friend, joined us from NY.
Friday was a full on day. Up early and straight out for a pre-ride. There were no course maps or info making it anyones guess if we were actually pre-riding the correct stuff. We took in two-thirds of the lap. We had already been out for well over an hour and I had a decision to make. Do I ride for longer - knowing it is the day before race day - and possibly undo any glycogen loading etc? Or do I call it and know I am tapering properly? Opted for the first one and left the last 4 kms as a mystery. Turns out most 'serious' contenders had been out riding the course for atleast a week prior.
Lesson one
: Be selfish. Should have planned to spend much more time at the race site, riding the course prior to the race rather than hanging out in Vancouver. Sean turned up that evening completing our 24 Worlds crew.
Registration was super quick, number 23 for me. The afternoon included a compulsory solo briefing - including 15 alarming minutes from the Park Ranger talking about the seriousness of the bear in the current area. Recommendation to carry bear spray and wear a bear bell. I had bought a bell as a joke - but onto the bike it went. No help against cougars though.... try not to think about it!
Race Day
No-one sleeps well the night before a race and race morning I struggled even to eat. I wanted to be at the pits, getting organised to take my mind off nerves. It was a battle to stay calm and I wanted the routine of set up to zen out with !!!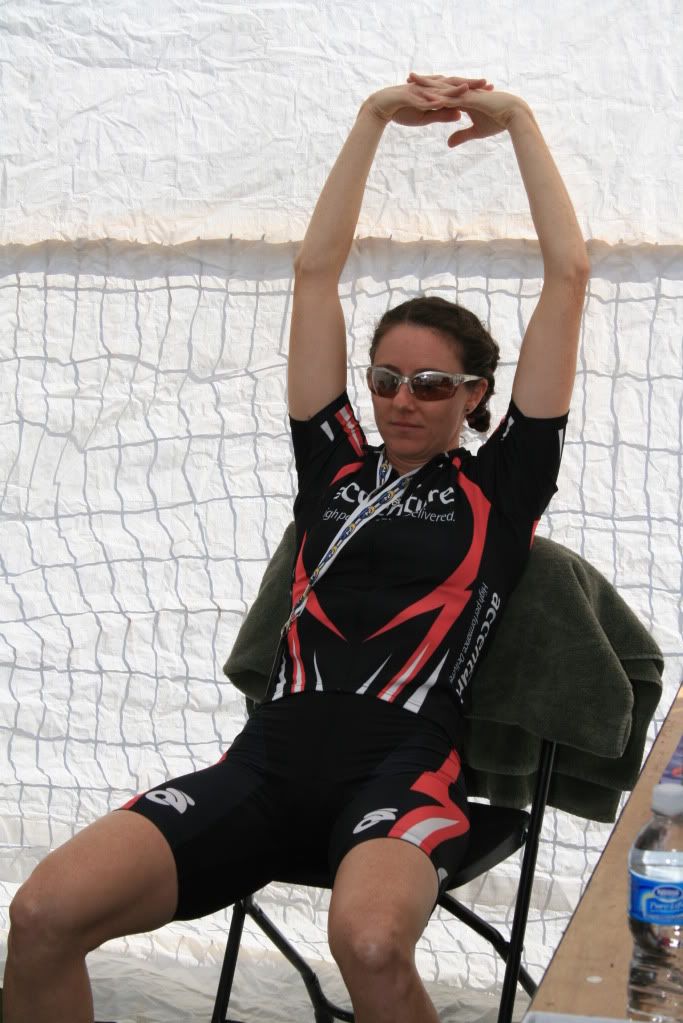 Setup was pretty straight forward. Sean and TR quickly worked out what was needed where, and Greg settled in to take photos and spectate at his first ever 24hour. The pit looked awesome and the atmosphere was insane. I was at THE WORLDS.
Before I knew it we were being called into the start line. I had managed to keep my nerves under control - but once we were lined up in seeded order and introduced individually to the roar of the crowd - there was no hope. We stood in the corral with music turned up to 11, and watched the giant race clock count down. More than one person had tears, it was so overwhelming.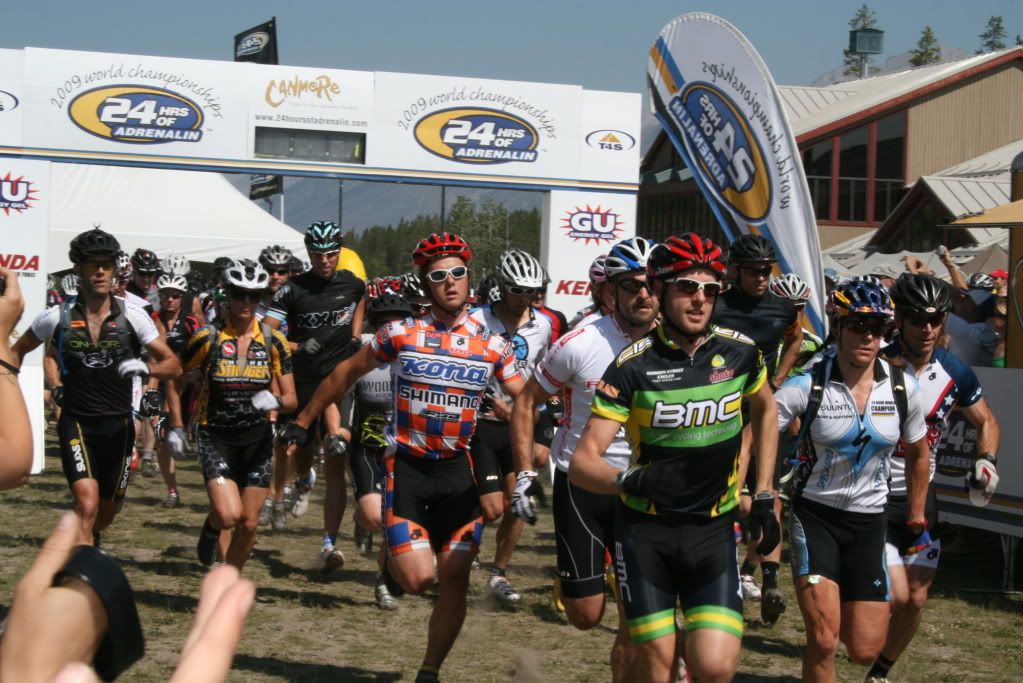 The le mans start was brutal. A long, steep run over uneven ground in bike shoes. I was totally focused on keeping my ankles in one piece! Once on the bike I settled in, but was it hot - well over 30'c and a shock after our winter. I knew the heat would claim people and worked on my plan of 1.5litres down a lap and keeping it steady.
Here, in the very first lap, things got interesting for me. Another rider panicked on a U section of the course, and grabbed two handfuls of brakes and clipped out on the UP wall. I was right on her wheel, and her sudden random dismount left me nowhere to go except down. Hard. Back up and onto the bike. There was blood and it hurt, but it seemed to pedal fine so I put it out of my mind and kept riding. As I completed my first lap it dawned on me just how hard this course was going to be. It was technical. It was steep. Every metre had to be earned. I thought about Jaman's weak zen moped and tried to find the smooth lines. It worked here and there, but in general I just don't think they were there....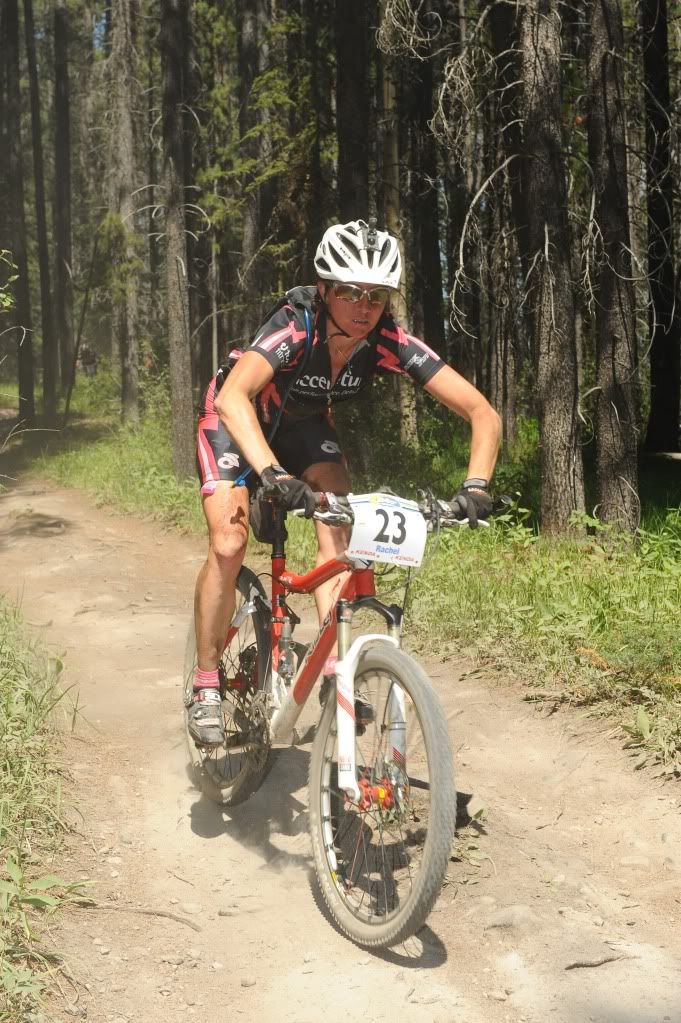 The laps added up and I settled into a reasonable rhythm.
I had told my pits no lap times, no positions - just riding... they did know though that I was picking up and making my way through the field. And I could tell from Sean (my brother) things were going well.
Come nightfall the course was suffering badly from the 1600 or so riders. What was difficult to start with was now full of ruts and holes that seemed to eat any momentum, and track that was breaking away and crumbling down the sides of super steep inclines. Lines that were tight earlier, seemed to require even more precision. Difficult in the day, insane in the dark.
Lap 5, I managed another crash. On one of the the narrow bits cut into a very steep hillside, something snagged my front wheel on a straight section I was shooting at speed. I had a split second to think 'NOOOOOOOOOOO' and I was
riding over the edge
. I can't tell you how I separated from my bike, but after I ran 'the check' and figured I was breathing and I could move ok, I found I was about 5 to 6 metres down a little cliffy hill, with my bike halfway between me and the track. My helmet had done it's job and I had cleared to massive logs to land in the soft moss found everywhere in Canadian forests. After scrambling hands and feet to regain my bike and then the course, I gathered myself and was off again. 50 metres down the trail, the medics were treating someone with a spinal. My support crew told me that there were at least 10 cancelled laps annouced - meaning the riders had withdrawn midlap; the course was starting to EAT people. I was badly shaken.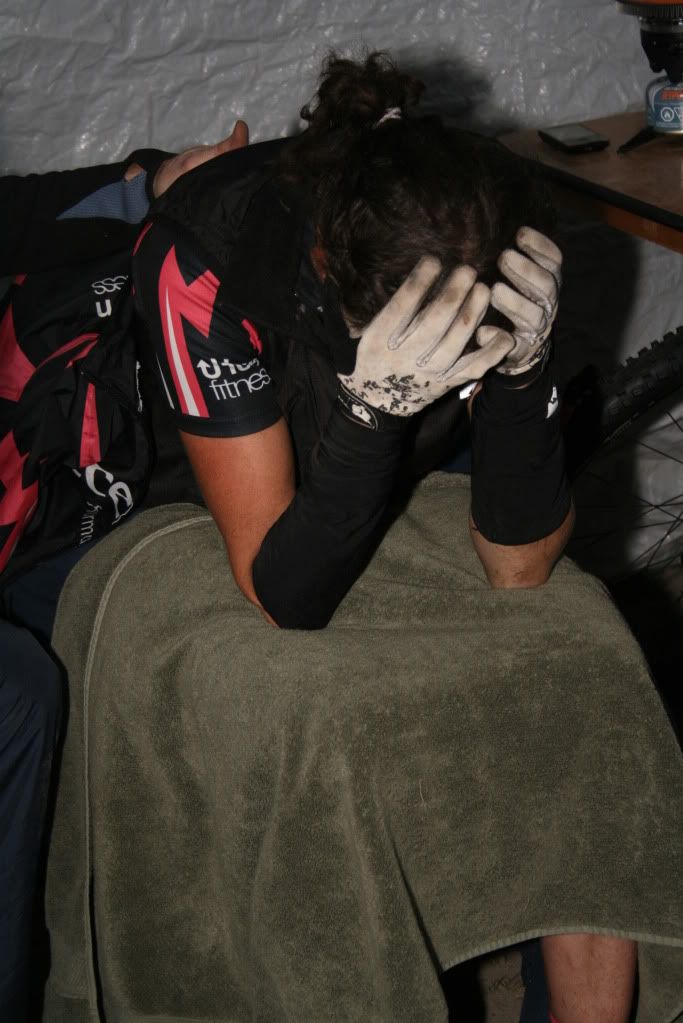 It reminded me that what we do is dangerous. There is risk. You can minimise it by knowing your abilities and never being too proud to get off and walk something that is beyond you. I truely hope that rider - whoever you are - is ok.
I broke my gear shifter in the crash, and it meant I was unable to properly use my bottom third of the cassette. I could get granny with a bit of skipping - but the next 3 up were no go. So it was sit and spin, or MASH like a demon. My crew informed me there was nothing they could do. It was very tempting to quit.
Lesson Two:
Be selfish. Take 2 bikes. I did know this, but a) I only own one and b) flying with two bikes would have meant I could not take a bag. Next time I should tell my support crew to forgo their bike, and to carry another for me. I looked at hiring over there, but the shops told me they had nothing appropriate (and maybe they didn't want to hire for the race!). Most riders had two or three bikes there.
I continued on. Swapped out to a new helmet and got on with it. With a busted bike it did mean lots of walking - but even walking is moving forward. I completed 10 laps, and approximately 20'000' of climbing. I placed 10th in Elite. I did my best and left it all on the course.
I earned a beer. I can say I am 10th in the world. It is something I will remember forever.
What is next? Well, next year it is in Australia....... gets you thinking.....
Big thanks to -
Jack at Accenture for supporting me as my major sponsor.
Jezza at Ride Inn for keeping the wheels turning on my Ridley.
Steve Tapper at U-Turn Fitness for great training programs.
Sean, Steve and Greg for being the best support I could hope for.
(Though I think you guys had way too much fun and are probably being talked about by anyone that observed you in action.)

Paul for uniform design (I still think I had the BEST kit there).
MattDog for the loan of his Mavics. And his AWESOME AYUPs.

Winner for the loan of his Stans Olympics.


Gareth for holding the fort at home and allowing me to follow my dream.