Lately, most of my long rides have involved getting lost in the BFP hills for hours. Actually, there is no real danger of getting lost as I have ridden most of the stuff (though I am sure Megalegs could find me a mystery hill or two). In fact, it is too familiar. I never knew that could happen.
On Sunday as we prepared for our hours of power, there was a distinct feeling of underwhelmed. At the last minute we made a change and opted to go check some stuff out, on our bikes, for fun like. And it made from some excellent fun. The mental effort to ride the same stuff over and over is actually tough. I hadn't realised it, but the contrast with this ride was obvious.
29ers - the weapon of choice for landslips!
Our ride took in the Goat Track - which really is now a Goat Track, I doubt she will ever see a roadie or a car again. There is just not enough land left to fit a road... it pretty much fell down the mountain! I am not sure where the locals go now, with both the Goat Track and the Tourist Road closed - I guess through the Gap is it. Something to bear in mind when climbing Nebo on the road!
Anyway, the GT is still a great climb, just probably need fat tyres or a CX these days (and the ability to not look down on some narrow sections!).
The top was magic with plenty of water moving through the creek. There were some huge trees that had been dropped along the creek - I cannot imagine what it must have been like when the 700mm of rain fell over a couple days during the floods.
Beautiful spot at the top of the Goat Track
After that we took the tar back to Nebo village, attacked the obligatory roadie or two on our MTBs, and decided to head back onto South Boundary. Here the hammer was dropped as we belted back towards civilisation. Realising we were going to be back way earlier than anticipated - we added another extra loop down off the ridge to Gold Creek Reservoir.... There were some unscheduled stops as Nick attended to some puncture dramas while I offered sympathy...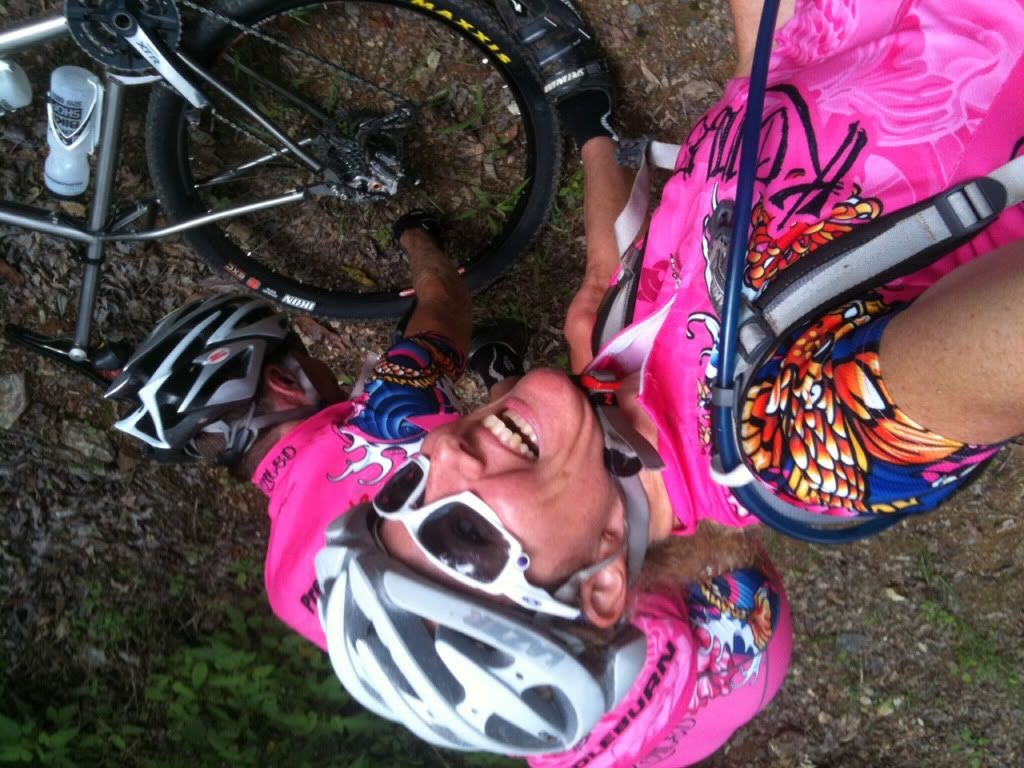 snakeskin sidewalls are where it is at. Nuff said.
I then introduced Nick to Hillbrook hill. Fun times on that climb. We both promised to go back and do that again. I would like to know the gradient in a few of those sections... definitely in the pinchy realm.
At the end of the day, we got our kms and did the job - and best of all because of the adventure wandering, it didn't feel like work. I am considering a 'flip a coin' ride in BFP where we ride to an intersection and then flip a coin. Could be some mad fun. But I will pack the topo map, just in case. Mixing it up works a treat - try it!