Race day dawned and I woke from a surprisingly solid sleep. Usually I am terrified under the blankets all night thinking of what was to come, but this time around I thought about smooth flowing lines and next thing it was morning! Sweet.
Packed and ready to go
As I looked out to the amazing blue Mediterranean and put in my race braids I found myself actually looking forward to getting out there. Putting on my kit I felt a sense of being prepared and ready. I don't know if Shan would say the same thing after being forced to live in close proximity with a shebeast for the week, but all in all I think I was calm. Focused yes, intense yes, particular yes - but not flipping out of my mind race hate. I was in Italy to race my bike - life is GOOD!
Koiled is coming.
As we set up the pit area I waited for the usual sick, kick in the guts nerves but they never really came. We just set up. I chatted to a few people, organised some gear and sat down and ate. All the Australians had been pitted together and Matt Dog and I shared a tent - perfect.
chilling pre-race
The organisers provided us with powered tents, tables and chairs for no charge - that's a first! Somehow, even half a world away we managed to have enough stuff with us that it looked like a Koiled shop. Soon enough it was time.
Koiled Pits home of Pain Master Duggan
I lined up next to Jess on the start line and exchanged a few words.... the music was pumping and the countdown was on, I was smiling and ready and soon enough Novo, Otto, Sette, Sei..... UNO!!! The le mans start was your standard affair. Elbows out and keep the big boys from running you down.... a quick ankle twister pit row lap and we were onto the bikes. The first lap was super congested and I found myself getting frustrated and impatient. People in front were stalling, hesitating, randomly unclipping and generally making the trail harder than it needed to be. There was no passing. Dog was somewhere close because I could hear him cheering and yipping - as you do. My impatience led to a dumb crash, something I seem to do pretty regularly on first laps in big races (note to self: CURE THAT!). Little did I know I had knocked the rear wheel out of the drop out. Unaware, I tested levers and one pulled to the bar. Damn! Had I broken a brake?? Went to spin my wheels and realised the back was not where it should be. Tried to put the back wheel in and no go. Was it buckled (prayer time) was the rotor bent ... Nope my beloved Industry Nine was perfectly true... then I realised.... because the wheel was out I had pushed the pads together when I checked my levers!!!! I lost about 10 to 15 minutes at this point as I struggled to part the closed pads with a plastic tyre lever. It was hard to stay calm but I focused on doing the job and shut everything else out. I had smashed the hell out of my lower legs too, but no time to think about that.
Rolling again.... rubber side down.
I sorted it and jumped back on - but I wasn't getting all gears the way I should ... bent hanger to be expected I suppose! I made the most of it with the front derailleur and managed like that for a good 9 or so hours. My Santa Cruz Tallboy really is my dream bike, and the idea of swapping it for my Koiled hardtail weapon on this rough course was not something I wanted to do. Don't get me wrong, my hardtail is a wicked little ride, but she makes me work hard.... and conservation on this course was going to be survival. My Tallboy is my comfort blankie!!!!
Finale rock. Cruel after 24 hours.
I settled into a good rhythm and rode everything. My legs felt great (thanks Coach Cupcake), I got over being upset with having lost time, and I looked around simply loving that I was here and doing it. The light rain we had started with had cleared and it was a cool, clear afternoon.
eLoad and a banana - go go go.
For the first few hours we did feeds without stopping. We meant to practice it, but we never did. Worked out fine. Shan ran along side as I threw a bottle and took a new one, and he shoved something in my pocket. I ate what I was given and kept it rolling. I had some quality pain in the first few hours from my crash, but once that settled I felt good and found myself picking up the girls like Giuliana as I moved up the field. Within a few laps I had caught the other age group girls and was putting time into the them every lap. I'd climbed everything in the first few laps, but quickly found the horror loose dirt pinch climb was better to walk - riding just took too much out of me and left me on the creep when I crested it. Almost everyone else seemed to be doing the same. My pit had instructions not to give me placings until 12+ hours, but Jason came past and told me I was in third overall and asked me what I was doing in age group. Fair question, but not one I expected to have to answer! It was clear to me I was now riding a step up from my last worlds performance.
riding the corner, with two people standing on the line!
The first 6 hours passed fine and it wasn't long until the sun was setting. Confession: I had done no night riding since the last 24 hour race I did. Naughty I know, but almost impossible to fit in amongst the training, recovery, work, family balance. As such I was tentative switching to the dark and my lap times show it. Adding some night riding to my next prep is something else I know will give me free lap time bonuses.
Sunset and settling in.
As the night came on it was clear the difficulty of the course was taking it's toll. I watched Dog suffer, and left him on a climb wishing him well yet totally focused on my own struggle. I started to suffer around the 10 hour mark. I think transitions were turning into a creep off the bike if my support crew weren't looking or blocking the door. They did a great job of keeping me moving.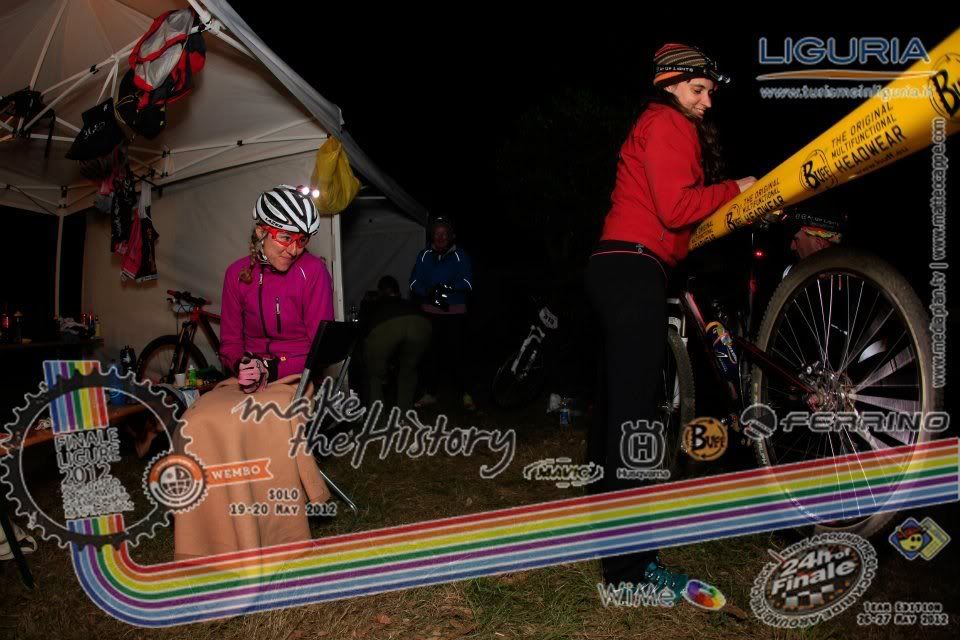 I know what's coming..... the hard tail!
I had got to the point where I was having to get off and fix chain suck several times a lap because of what I had done lap one. It was time to fess up. I was allowed into the tent while Shan and K cleaned the chain and looked at the bike. Good news - Shan could fix it. Bad news - he needed time.
Good news and bad news... sounds like bad news and bad news.
Hardtail it is. I rode it. It wasn't actually that bad. While I completed that lap (or half lap really) Shannon worked feverishly to swap out the hanger and readjust the whole rear mech - with no workstand and next to no tools. He really is one of the best in the business and when I came round he had it ready to go. Thank you.
Fixing the hanger.
Honestly from here things get blurry. It hurt. It really hurt. I suffered. I struggled to stay awake. I suffered some more. Then Shan and K pulled out the italian coffee. I ripped out a 10 minute quicker lap for the promise of an espresso only to find they weren't expecting me so soon and didn't have my coffee! That hurt my feelings :) I started to notice the bikes of other competitors sitting by the tents, where people had retired for the night or to take some rest. I was jealous, but I didn't come here to sit on my ass.
The night. Long and lonely.
I guess I made it through. And I guess when I suffered so did the others. I was close to an hour up at this stage and holding steady. Somewhere in there I had a kit change which eased the suffering at least temporarily. All solo riders pray for the dawn, this race was no different.
Bring the dawn!!!!
Dog found his way out of the hole he was in and came back all cylinders firing! That helped me lift too. As the day brightened and I was no longer under lights I started to hit it a bit harder. Having to race all the way through to 1pm was tough!
18 hours in and still trying to find some pace....
My crew started doing calculations about how much was left, and I desperately wanted them to give me a goal. Show me where the gate was so I could ride to it and get OUT! In my altered state I didn't really understand what they meant, because our first lap was actually a half lap so we werent counting the same things. It started to rain. And I mean RAIN. Sections of the course turned into clay slides studded with sharp ugly rock. I was uncomfortable with it, but I rode it. I came in thinking I surely I was nearly done, and they told me no, there was more. What the hell!!! I thought they were telling me I had to another full figure eight, but thankfully it was only one loop.
Concentration 20 hours in. Is there such a thing? There better be or it hurts!
I crossed the line in 23.43, with 16 laps and 8000m climbing under my belt and as a World Champ for my division. I finished as the 5th woman overall - a ride good enough for the elite podium if I had only backed myself to do it. I had time for another lap but no need, I had maintained my gap over 2nd. Shan opened to door to the hurt locker and I was free. I joined Dog to congratulate him on his win and we shared our race bonding thoughts. I had ridden an awesome race, and it was such a big step up for me.
Belted in blankets. It's the way we roll.
Ilaria Balzarotti (Ita), Rach Edwards (Aus), Jane Chadwick (UK).
Koiled World Champs - I loved sharing this ride with my top mate Matt Powell.
Thank you Shannon. For every training ride on which you joined me, for the encouragement. For every bit of support through Koiled, and for everything you did to make me successful during the week we were away - you made my win possible.
24hours is hard on pit crews too!
Thanks to Neezy and their Santa Cruz bikes for my awesome Tallboy, I won't race a 24 hour on anything else. Toby from Endurance Store also kept me fuelled up with eLoad - thank you!
So what next? A bit of R&R .... a bit of road racing, a bit of AR, a bit of rogaining maybe.... and then a lot of preparation for 2013. WEMBO Worlds. Home turf. All my gear, exactly how I like it, no 27 hour flights. It is going to be epic.
WEMBO 2012: 7 Aussie WCs (and a ring in).