*now with photos!

Stage racing is hard.
Heading into the event, I was not concerned about backing up day after day. With my background I know I can do that. I also know I recover quickly. What I was blissfully unaware of was the blinding pace at which these things go. That ignorance was rapidly resolved when the gun went off for day one.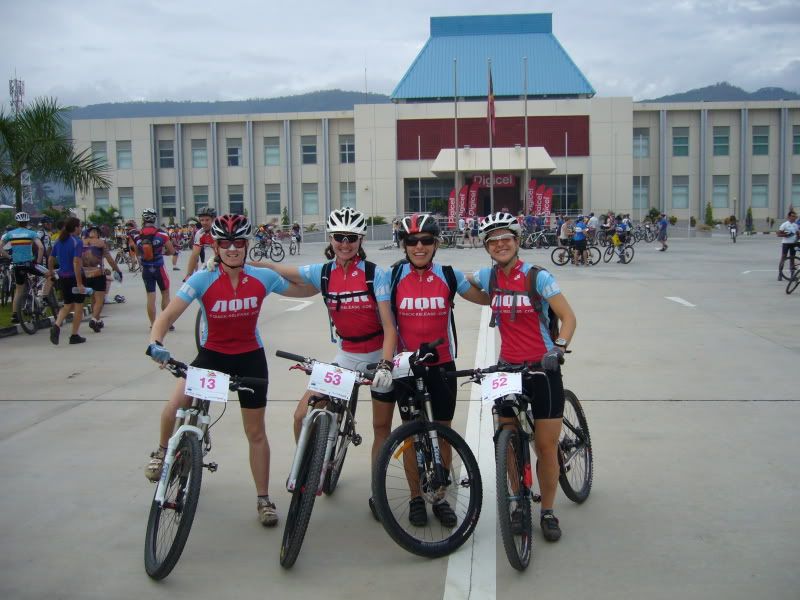 Things I learnt:
- Stage racing is not mountain biking. It is road racing on mountain bikes.
- Don't rely on the organisers for anything even if they say it will be given. Especially in Timor. We got not bars, no gels and often no electrolyte. I got caught out and paid badly on day one.
- You can drink too much (especially of the wrong fluid) and it is a very, very bad thing.
- Girls aren't good at saying they are awesome. My team mates were awesome, and slightly more awesome than me (understatement!) any time the road turned smooth and flat.

Day one was like a sledgehammer.

I have ridden in peletons but never raced.

The crashes, the mad timorese and the constant surging by front runners to try and split the front bunch had me scared and on the rivet from the word go.

I don't mean pushing, I mean turning myself inside out to stay on and in touch with my team mates. We would go from a comfortable 25km to 45+ ... up, down, up down.

It was brutal.

My other 3 team mates all race road and were great at pushing that pace.

I was in the locker.

I managed to hold to the 30km mark and the first KOM before being blown off the back.

I was shattered and still had 95km to go - including the 15km climb into balibo.

Tried to find some people to work in with, and managed it till I needed to stop at the 46km station for fluid.

No powerade as I expected so I took on water.

It was pretty lonely from here to the next 70km station - there was no-one I could see in front and no-one behind so I worked for myself into the wind on two broken legs and an increasing nauseous stomach.

Kept eating and drinking knowing I would usually come good.

The next KOM was a steep savage climb in about 38' heat.

I knew something was wrong when I had to get off and walk the last pinch.

I might suck on the flats, but I can usually climb.

At least I knew my 3 team mates were up the road with the times that would count for us that day so I sat back and tried to conserve.

It was impossible in the heat.

I found Paul, husband of one of my teamies, and rode with him to the next aid station at the bottom of the climb. They'd run out of electrolye so again - water.

He was shattered after having done lots of work to keep Claire and Sue up in the bunch - relentlessly towing them back every time they fell off.

I left him and started the climb - wanting to get it over with and out of the heat.

I felt pretty sick at this point but knew I could climb.

I stopped halfway up the climb to go to the toilet, so I guessed I wasn't dehydrated.

At this point I was feeling a bit dizzy and definitely sick.

Someone later said their polar registered 43' on the climb.

It felt like it.

I made it in - helped along by the hundreds and hundreds of cheering children.

I found Paul in the med tent and sat down with him.

Another team mate bought me food.

I tried to eat, and it was then I realised something was really wrong.

In hindsight I am convinced I had Hyponatremia.



Long story short I spent the next 5 to 6 hours vomiting. Maxolon did not help. The med team was telling me about being dehydrated, and had no means (or idea) to test electrolytes. I knew I wasn't because I had gone to the toilet twice, clear - once while riding and once while I was back. They didn't IV (probably because I was willing to force myself to walk to the toliet) and in the end they gave me an awesome chemotherapy drug that finally stopped the vomitting. I still felt ill, with a bad headache and general weakness but it was time to sort this out - I had to eat. At about 730pm I checked myself out to go to and force food in. I ate some rice and went to bed. It was a frightening night. I got up constantly for the toilet, more clues that dehydration perhaps was not the culprit! I heard the midnight black hawk medivac that came in fully stealth, no lights and certainly reflected on my situation.
My team mates and I reviewed the rule book we had been handed out. It said if you were swept or didnt start you would not be a DNF. You would be given the last riders time plus one hour, and could continue on. Everyone felt strongly that I should not ride. I knew I was unwell so I agreed to go in the convoy for the day. My team mates suffered, but rode well and held 2nd. I still felt nauseous but all day I ate ate ate knowing it was my only ticket back to the bike.
Day three I got back on the bike. It was a rougher dirt road stage, followed by another big climb into the mountains. As always, when the gun went off I was redlined immediately. I couldn't believe it was happening again!! I knew I was in the three whose times would count so I had to stay in and did my best to try and relax. Relax!! The pace at these things really blew my mind. Soon the road turned to a rough as guts rocky dirt track and it was much easier for me to keep up. A pig took some dude out and then ricocheted into my back wheel. I stayed up and thanked god it was not my front. Hundreds of cheering kids made you feel great. Plenty of idiots enjoyed the occasional overlap with your rear wheel, and I copped a red baron. Claire laughed at me. I overcooked a tar descent corner and still have no idea HOW I kept the bike up and stopped but again I did. Later I learned that Libby, had crashed on that very corner. Once we hit the climb I was much more comfortable as the pace drops, and I am much more accustomed to climbing. With Libby up the road, Claire and I worked in together with me being able to do some work for her after her massive effort on Day two to pull Sue along. We made it and held second. It poured rain, there was no shelter and all our bags got wet. I am not sure how there were not more cases of hypothermia, the organisers seemed unprepared. I only drank electrolyte this day, and about half the volume of day one - much, much better. I continued this for the rest of the race. They can jam their 10litres a day. It is dangerous in my opinion.
Day four was another day of tough climbs. Again Libby was up the road fighting her GC battle, and I was to work in with Claire while we rested Sue. It was a mix of tar and rough dirt sections. This stage had incredible scenery and took us up and over 1900 mtrs. The start smashed me as per usual, but was more sedate than the others with people knowing the hills to come. I was starting to feel good again, over the effects of day one. Claire and I worked in - I tried to stick with her on descents and she worked in with me on the climbs. soon Sue caught us and we decided to rest Claire with Sue and I taking it up the road to try and make better times. I think we climbed well, but on the very last part of the descent we caught a rain shower which made the road slick. Sue had a near miss and displayed some ridiculous skills to keep a sideways bike up on the road. After that she suggested we back off on the descents - wise I am sure. Unfortunately this day we lost aound 7 mins to the Trailmix girls and dropped to third. I think we lost a lot of it on the descent.
Day five had the only thing that came close to mountain biking in it. A 6 km rough rocky cliff ridden jeep track, followed by a whole 600 mtrs of single. It was decided that I needed to be in the three whose times counted, as Sue is more of a roadie. The general consensus was that there was no way we could make 7 mins on a stage with a some climbing, but lots of descending. I said 'let's do it anyway', knowing full well with the flat into town I was the one who was going to be on the complete rivet and have to hurt like I have never hurt before for a long long time. It was not a happy feeling, but I was prepared to do it. Claire was a machine this day. She attacked EVERY climb and I had to give 100% to stay with her. Descents were the same. In the first few kms the unbelievable happened - we saw two Torq riders with flats by the side of the road - we were not only up on Trailmix, we were up on Torq. We reached the rough stuff and I quickly forgot my worries of staying with her in the pure pleasure of hardcore MTB descents. Paul screamed at me "heels down" and you know what - I think it worked! We absolutely smoked it, I cannot remember how many people we overtook. The timor kids yelled "Malai FAST FAST" which was cool. Then came the road flats - with 3 big climbs. I hurt. I was clawing to stay on the wheels - but we were still in front of two torq riders, and no sign of trailmix. Paul was there to help and kept me on the bunch. Coming into to town I didn't think I could do it. The torq rider pulled us back and asked me 'what we were trying to do, just relax'. I told her we were 'just having fun' (in between being sick in my mouth). She tried to push me off Claires wheel but a slight adjustment of elbows fixed that and she backed off. It strung the group slightly and Claire went off the front to get one of us up the road on torq. I held with Paul and it was a red haze. At some point she dropped off the back to let us have it. We crossed the line, and I was very, very happy.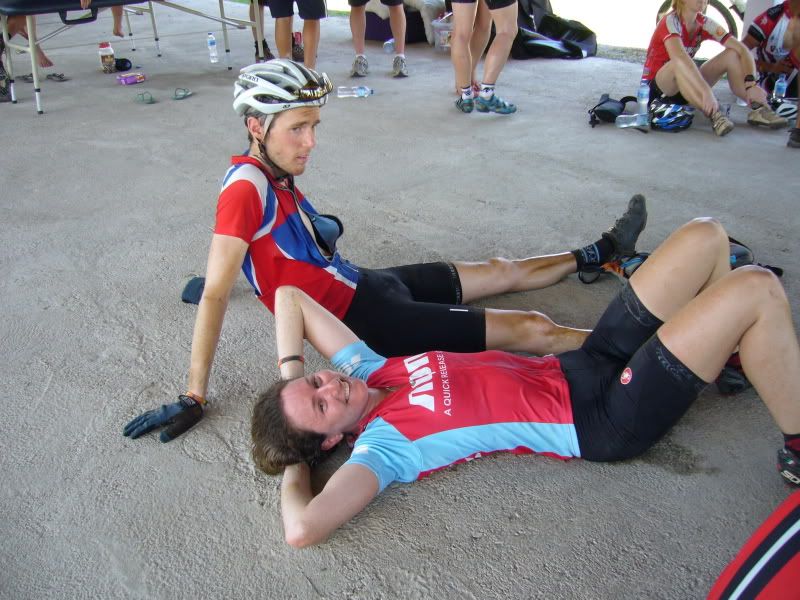 Unfortunately during the event the judges updated the written rules verbally, and apparently on a whiteboard at Timor Lodge. Somehow everyone in the team missed it. And while I can provide opinions on the organisation and changing of rules at the last minute to something different to what was handed out that very day - rules are rules. I know for a fact there were other riders awarded that missed days so there were inconsistencies and it feels unfair. It also didn't effect us on day 3 or 4 which set a precedent in my mind - and might have changed the way we had ridden.
Trailmix protested that I had not ridden day two and we were relegated to third. Despite my personal disappointment at riding the way we did on the last day and then losing it, I respect their right to protest and the commissaries decision. If I am in that situation I have learned to speak with commissaires rather than a race director.
I'd like to go back again and do it for pleasure, with photo stops! I didn't see much more than my bar tape and tears for the whole week. Bring on the tour legs!!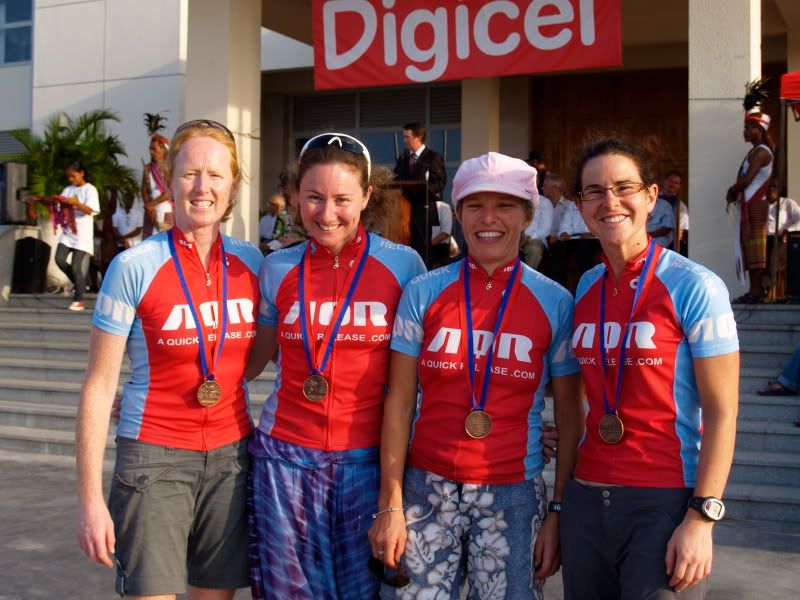 Next stop - World Solo 24s.