First Road Race done ... and most surprisingly won!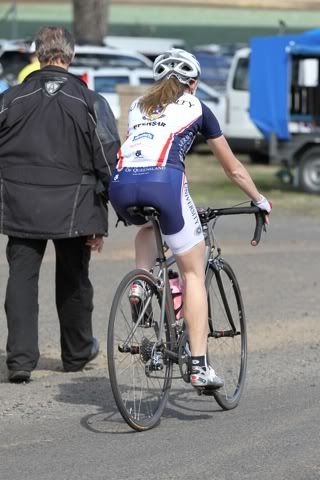 developing a cyclists arm to leg ratio nicely.....
I arrived and rolled out for a warm up choosing to ride a few kms of the course backwards so I could recon the 'hill'. I couldn't find the hill, but I did find a speed bump a couple of kms back from the finish line. Bryn assured me that was the hill, but honestly it was only 200 or maybe 300metres of a fairly easy gradient. I had taken advice from all the Uni guys, telling me this was where the move needed to be made on the last lap. I followed the race plan and stuck in the bunch for one, two, three laps.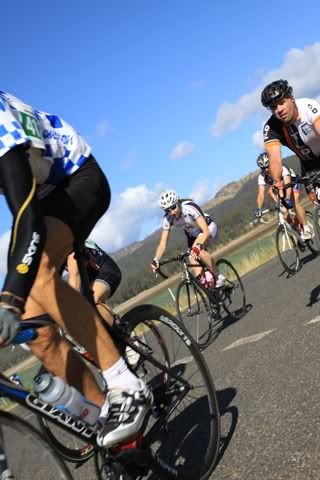 Hiding in the bunch, burying my MTB guilt
On the last lap I started to make up places from the halfway point, knowing that I needed to be near the front for the 'hill' as I expected most people to want to pull the same move. Each time we had ridden the hill, it had gotten very close, and seemed to me to be reallllly dangerous. I know I changed my line a few times to avoid certain disaster, and others were doing the same. Knowing this - I used those few kms before it to move out and up with any gap that opened. We hit the hill and as I started to push for the front a maddened gentlemen rode over the top of me - he received plenty of 'advice' from me, and a number of riders behind us. It was probably a good thing in the end since a) I stayed upright, and b) people moved the hell away to save themselves creating a gap. I jumped through it and kept going also attacking the descent and getting into the top 3 or 4 riders. I tried to judge which one of the boys looked fastest in front to grab a wheel and we were all rachetting up the pace. I have no idea what was going on behind but it was clear the bunch had bridged to us when suddenly riders were trying to come around and finding themselves off in the grass. Chaos! Keep pedalling!
I don't know how but I came together with one of the girls (Nicole?) who was trying to come around from behind me on the last corner. I am guessing my line was wider than she anticipated, though I swear I was on the wheel in front... but who knows - it happens so fast. We came together for a nervous 4 or 5 seconds and thankfully my instincts were to stay there and hold up until she could ride off me .... certainly got the adrenalin going. This road racing business is some gnarcore at times - I know have a new appreciation for 'rubbing is racing'. Next thing I knew we were at 200metres and with the drama I was now back in a sprint finish. I guess Coach Cupcakes training is working as I held them off and made a few places on the boys too. Another 200meters and I would have made the boys toast.... or that is what I am claiming :)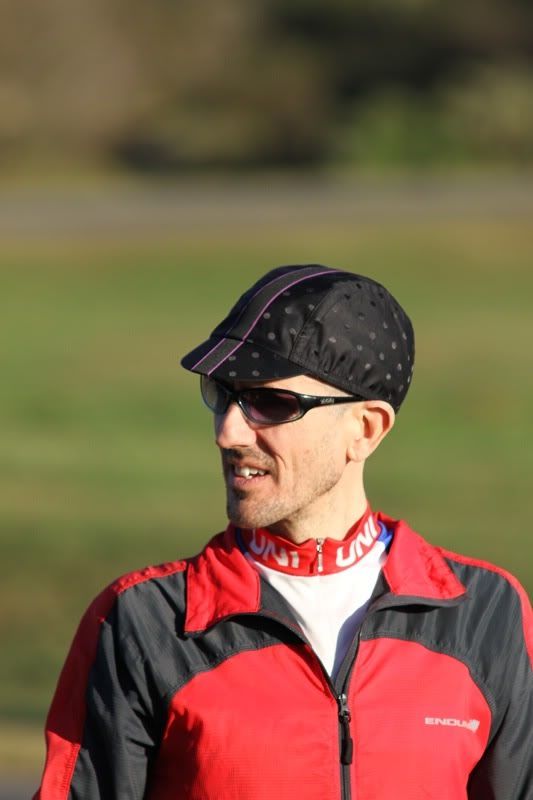 thanks Coach!
With Mawson off the radar and nothing much better to do, I may roll the skinny wheels for the next few months until I dream up the next big thing! I hope to get good enough to move up a grade for next year and roll with the A's. Up next - Half Epic - Definitely. Qld Road Race Champs??? Maybe!
Thanks to Morbo and Miff for photography!